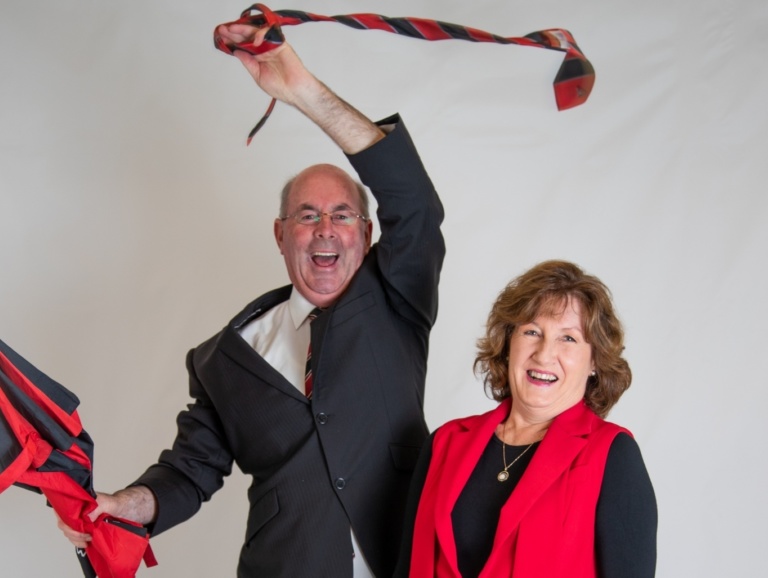 Meet the Team
T. M. Foley Funerals have been caring for Tasmanians for over 30 years. We feel privileged to service the wonderful state of Tasmania and have facilitated more than 1,000 funerals ensuring that each service is held with dignity, compassion and care as we work closely with every family.
Nicholas Lee
Director
Nick, the youngest son of Alf (Bub) and Jean Lee (nee Gelston) is approaching nearly 30 years in the funeral industry. Nick, together with his wife Anne, took over T. M. Foley Funerals in 2011 and has upheld the morals, superior care and signature service ever since. Nick has directed more than 3,000 funerals and acted as celebrant for close to 300. He approaches his work as if every client is a family member and brings considerable care and compassion into every service – "About The Best"............ is T. M. Foley Funerals slogan – and this says it all.
Nick's wife, Anne has been a Teacher Librarian at the Launceston Church Grammar School for the past 20 years. Anne has a love of Tasmania and her local community and she enjoys singing with the "Vox Harmony" choir, teaching and nurturing her students and enjoying the lives of her 3 sons, Patrick, James and Matthew who are all keen sportsmen involved in both cricket and football around the Launceston area.
In his early days Nick grew up in Westbury (the Promised Land as he calls it!) where he has a rich sporting history in cricket, football and badminton. Nick is very thankful for the opportunities given to him by the Westbury people and he has a deep love of the Meander Valley Community and is very grateful for this.
Rosalie Beeston
Funeral Director
One of 6 children, Rose is a born and bred Tasmanian whose early years were spent on a farm in Barrington, not far from the beautiful Mt. Roland, before her parents relocated to Launceston when she was 9.
Rose and husband Greg of 43 years (who works for the Launceston City Mission) are very family oriented. They have 3 sons, 3 beautiful daughters in law and 8 grand children, all who live and work in Launceston.
Rose has been an accomplished sportswoman and musician – she even recorded 2 albums in the late 70's with the gospel singing group "The Cousins".
Rose has a heart for serving others however she is needed and her 'can do' attitude is just one of the many reasons she suits the T .M. Foley Family to a tee. She believes her role as a Funeral Director is not just a job – it's a calling.
Debbie Suba
Funeral Directors Assistant
Debbie joined the Foley team in February 2018. Debbie commenced her early working life in the field of nursing and she too has the 'can do attitude with a heart for serving others. With husband Steve, Debbie has 2 daughters, 2 sons in laws and 2 gorgeous grandsons, all living and working in Launceston.
Russell Hogarth (Rusty)
Funeral Directors Assistant
Rusty is a proud and loyal member of the T. M. Foley team and a very well known Launceston identity with a rich Launceston family heritage. Rusty has an active role with Launceston Legacy and was a former Sheffield Shield Cricket umpire. Rusty's family have owned and operated Waverley Woollen Mills for many years and together with wife Jane live not far from Launceston.
Our History
T. M. Foley Funerals has a rich history and has been operating in the greater Launceston region since 1989. The founders of Foley Funerals, Tim & Helen Foley were (and continue to be) valued and respected members of the Launceston and Tasmanian community – through both their business achievements and sporting accolades. (Tim was an N.T.F.A. footballer and premiership player with the Launceston Football Club).
When Tim and Helen commenced T. M. Foley Funerals they instilled strong values, low cost affordability and quality services, serving others with honesty and integrity. These values have been upheld and maintained by Nicholas and Anne Lee since taking over the business in 2011. Nick and Anne together with the entire staff at T. M. Foley Funerals continue to work for the people, and since beginning their journey, Nick and the team have had the privilege of serving bereaved families in arranging more than 1,000 funerals.
What our clients say...
What a brilliant job was done for our husband, father, grandfather, relatives and friends. He will be sadly missed, but I'm pretty sure that he would have been happy with his send off.